I have used several different film sizes and types and I will use this page to share some experiences. It can help you avoid the same errors – or exploit them to create artistic pictures, whatever you like most 🙂
Not so much content so far, as I have just recently restarted taking film and are rebuilding my experience especially on black&white that I develop myself. But I have bought a C41 developer, therefore in the future I might share some experience on Kodak Ektar, Fuji Velvia or something else.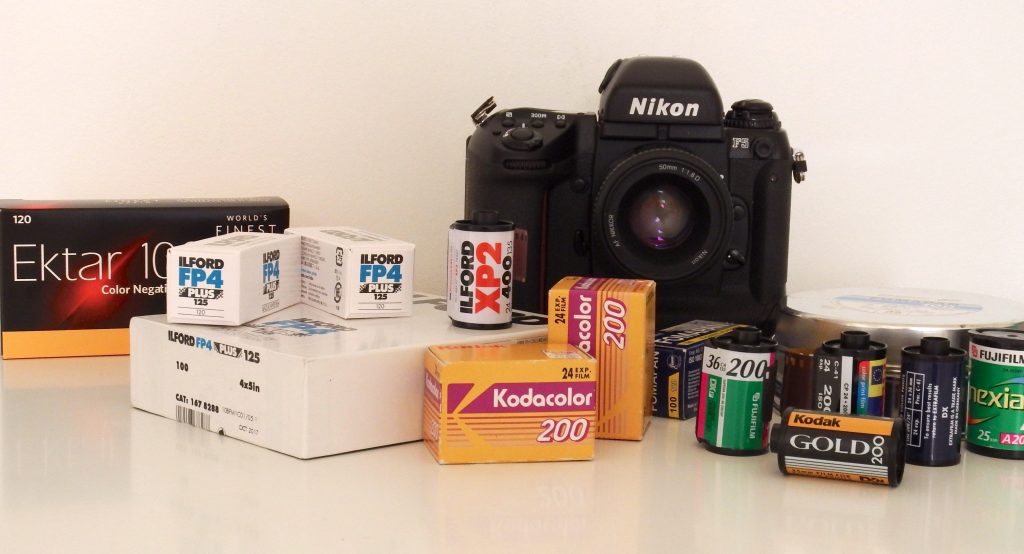 Observations
Fomapan 100 ISO (I don't know it this also covers the 400 ISO type):
I exposed half of two 35 mm film sitting in two different cameras in the summer of 2017 and exposed the rest of the film in february 2018. The pictures from summer are very grainy, not just a little but rather extremely so. At the same time contrast is very low. But the pictures on the same film exposed a few days before development look completely different with nice small grain and reasonable contrast. I haven't experienced this using Ilford FP4 and Pan F, wonder if this is some peculiarity of the Fomapan film. I'll have to try the same with the F400.
Fomapan 400: Nothing to note so far
Ilford FP4 125 ISO: Nothing to note so far
Ilford HP5 400 ISO: Nothing to note so far
Ilford Pan F 50 ISO: Nothing to note so far
Ilford Delta 3200: Nothing to note so far
Fuji Across 100 ISO: Nothing to note so far
Kodak Tri-X 400 ISO: Nothing to note so far
Ilford XP2 super 400:
This is a very peculiar film but also a film I have come to love. The peculiarity comes from the fact that though it can be developed in black & white chemicals it is meant to be developed in C41 color chemicals. My experience is that if you want to exploit the extreme potential of this film, you will have to go for the C41 process. But don't worry it's not very much more difficult than doing b&w at least not using the Tetenal C41 set that I normally use. And the results are great, good tonality, fine grain and generally quite tolerant to the development temperature – at least compared to developing color film in the C41 chemicals. I will make a full review of the XP2 super 400.
Rollei Retro 400S: Nothing to note so far
Foton 80 mikrofilm: Nothing to note so far